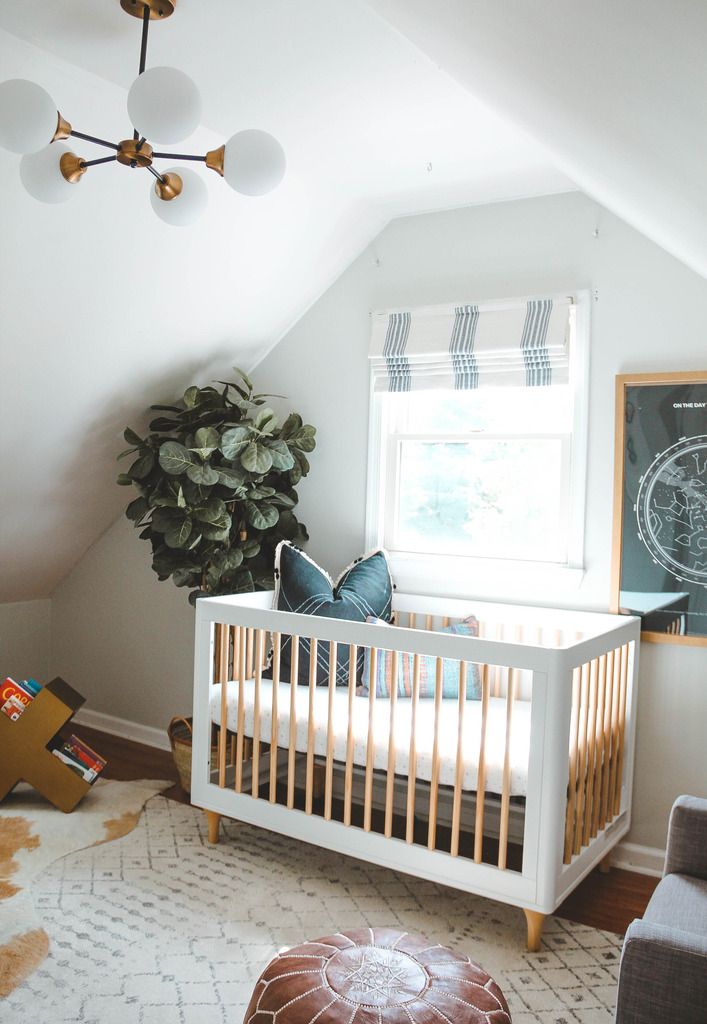 Happy Monday, errr Wednesday! I know today is not technically Monday, but I just had to share Cruze's nursery with you guys for Mom Hack Monday!
Wow! I am finally finished with the babies nursery, and it only took me ten months! haha Seriously though, I have put my heart and soul into making this nursery perfect. From every little detail, I wanted it to be unique and fit his sweet little personality. We have run into everything from waiting 8 weeks for a glider that wouldn't fit through the door. Lamps arriving damaged, buying a mirror too small, then redecorating the entire dresser because it had to match the new lamp. I think my biggest battle though, was finding pieces that weren't too "cutesy" or too much of something that only a baby would like. After three kids, you quickly realize that they grow out of the baby stage WAY too fast. And because this is out last baby, I wanted a nursery that could easily transition to a little boys room, with pieces I could use for years to come. Lets just say it's been an adventure, but I am so proud and excited to show you guys how cute it all turned out!
Adding Unique Pieces
My favorite part of the nursery is most definitely this star map from Under Lucky Stars. It shows the night sky on the day Cruze was born, which makes it so special to me. Every time I look at it I remember a verse from the book I read to him before bed each night. "On the night you were born, the moon smiled with such wonder; that the stars peeked into see you, and the night wind whispered, "life will never be the same." Nancy Tillman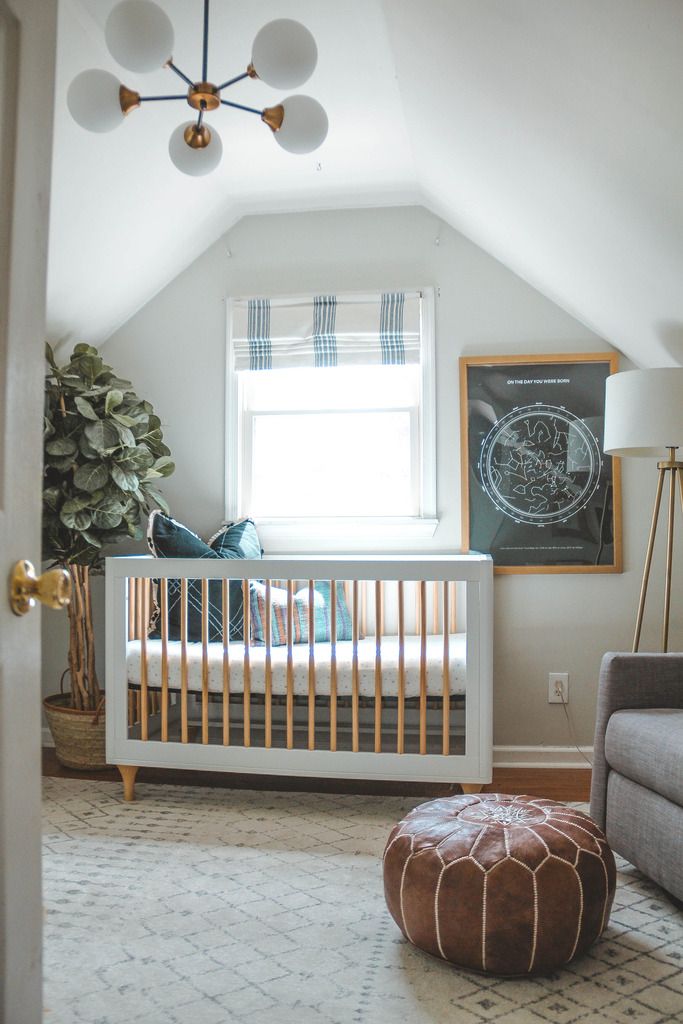 Creating contrast and Interest in his room
A close second to the star map, is this gorgeous blue dresser from Hayneedle, and this cowhide rug from Saddlemans. As you can see, the layout of this room is a little funky. I tried to make the most of this space by bringing in truly unique pieces you wouldn't typically see in a nursery. This was probably my favorite and most difficult part of the entire room. I put so much thought into everything right down to what kind of stuffed animal I wanted to place on the changing pad. I even bought not one, not two, but THREE lamps before I decided on this mid century table lamp. It is unique and fits the vibe of the room perfectly with its wood meets gold brass detailing. The gold hardware of this dresser also makes it an eye catcher, plus the color is absolutely gorgeous. I ended up layering our rug with this cowhide because I felt it would tie the whole room in together. Oh boy was I right. I think it makes the room, and brings in warmth to the otherwise cool tones throughout.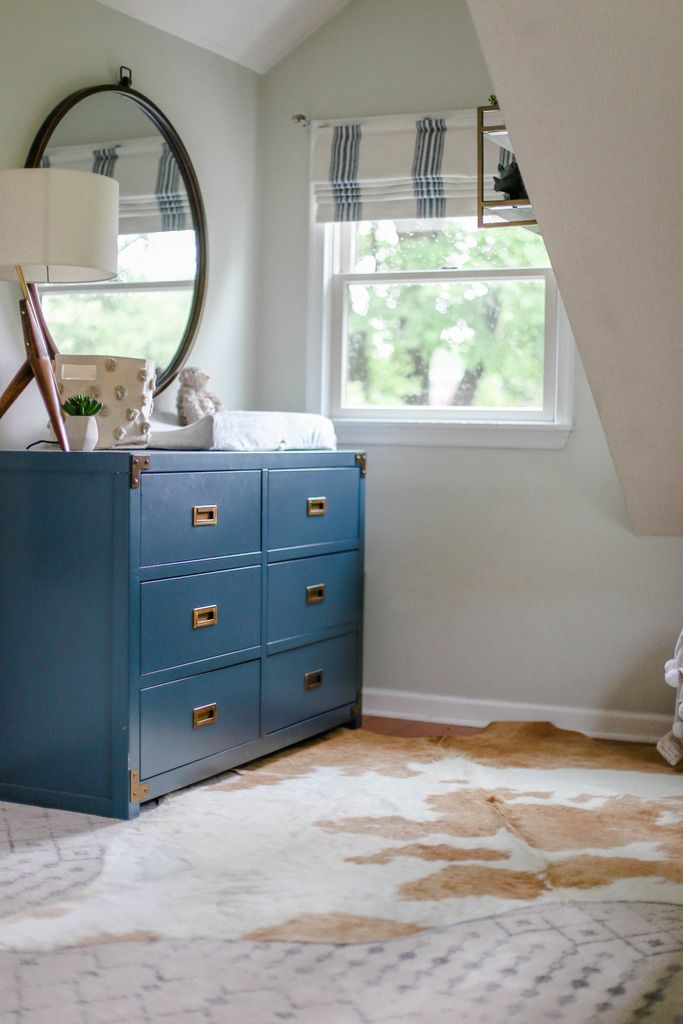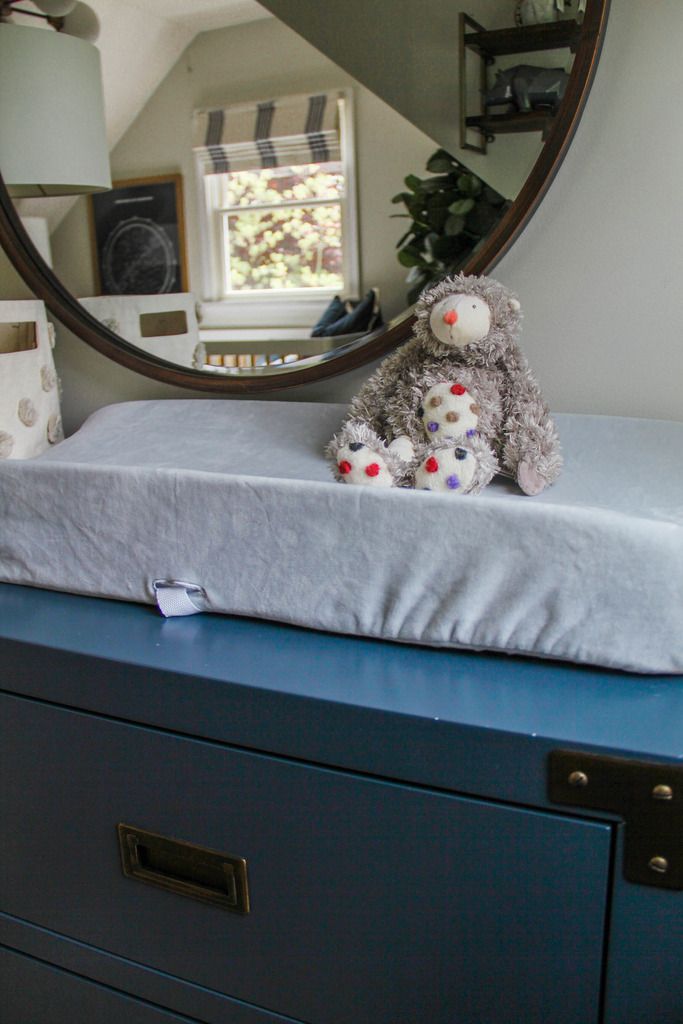 Finding the perfect Bedding
I decided to tie in the star map with his darling star print crib sheet, and added some color in with this colorful lumbar pillow that tied into the cognac pouf and roman shades. This gorgeous black pillow with it's pleated edge and tassel with geo print also adds such contrast and interest to the room. I waited for weeks for it to come back in stock, and am so glad I did!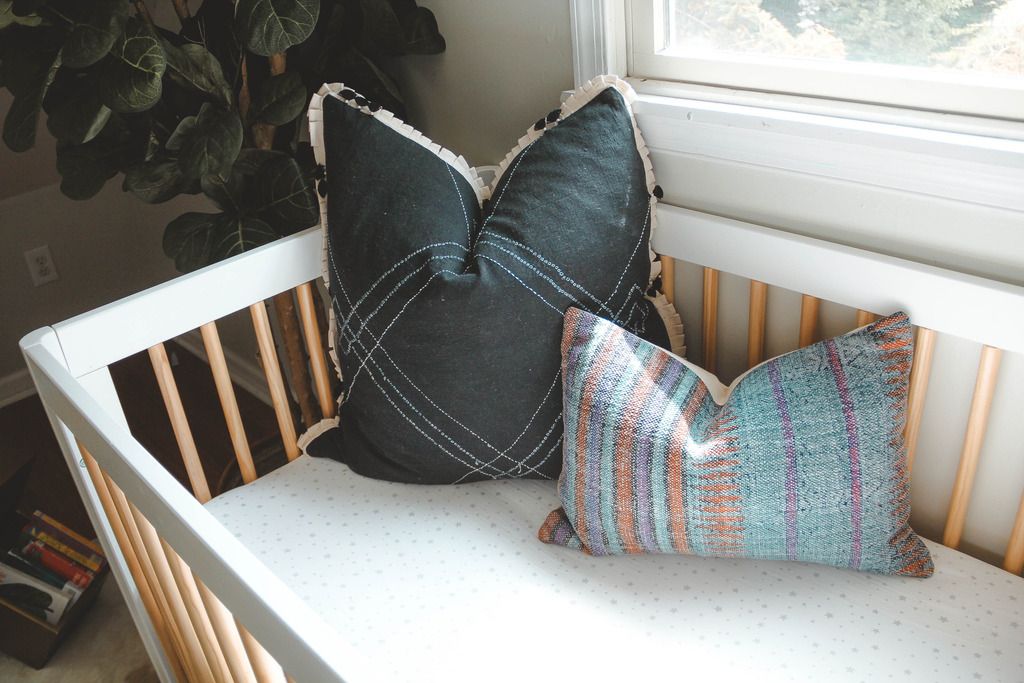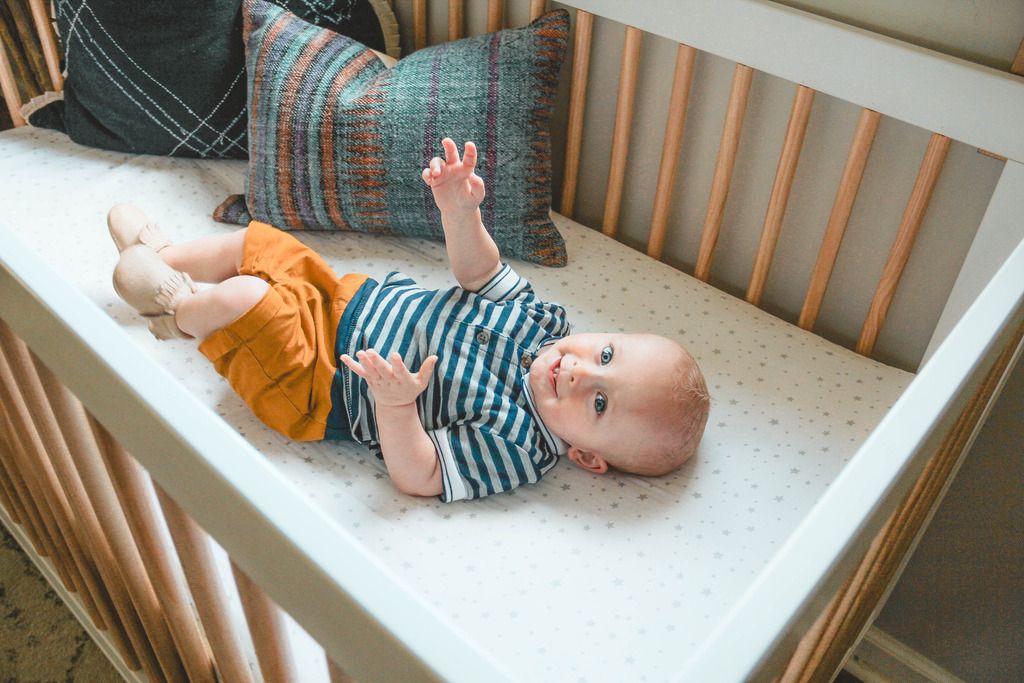 Now obviously this room would not be a complete nursery without its core essential pieces; ie. a crib, and a good glider. Babyletto has really outdone themselves lately with their selections. The very first thing I ordered was this beautiful crib with its natural wood detailing. I love the white against the natural wood color, and knew I had to have it the second I saw it. This glider is also the perfect color, and I love its sleek modern design. Did I mention its super comfortable and can swivel around for easy access to items around you? I don't think there is something more crucial in a nursery then having a comfortable and convenient chair to rock your baby back to sleep at night.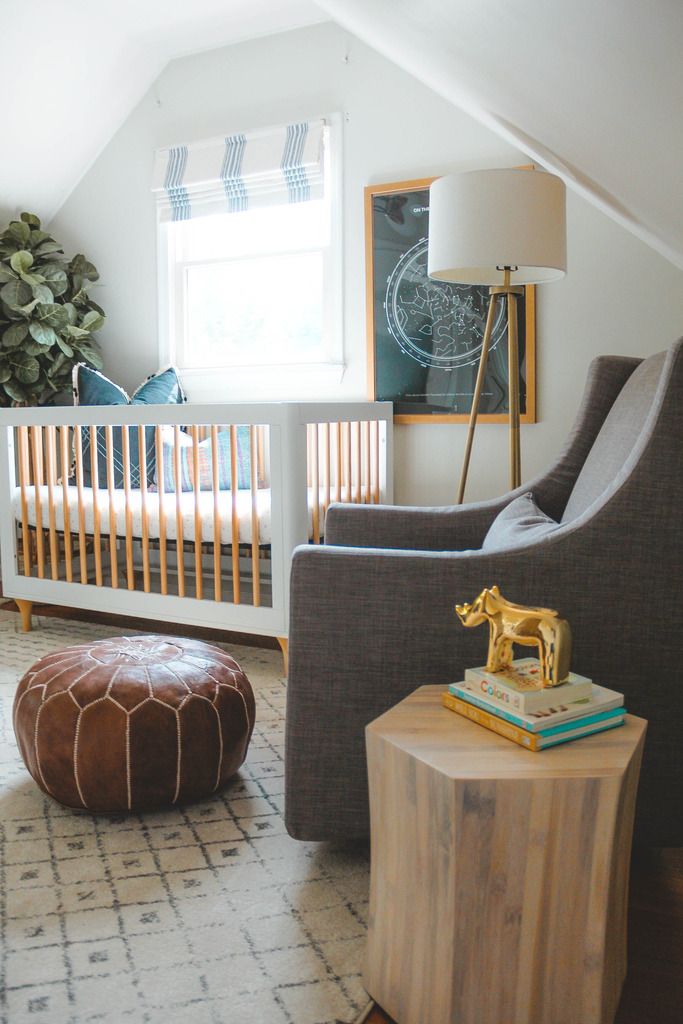 Find Something that is Imporant to you, and make it Unique
If there is one thing thats for sure, we are big fans of books in our house. We read three books every single night, and at least two during the day. My boys can be rowdy and hyper, but if you put a book in front of them; they suddenly become angels. They love the adventure a book can bring to their imaginative little minds, so it was essential I had a place for all of our baby books in the nursery. This X marks the spot book caddy was unique and incredibly perfect for this space.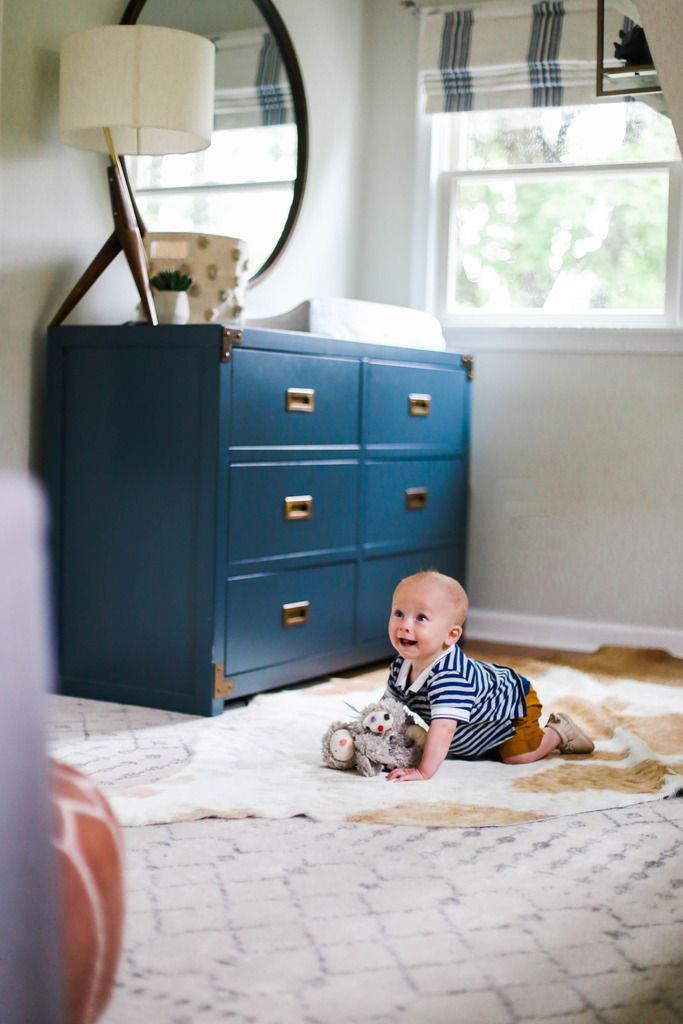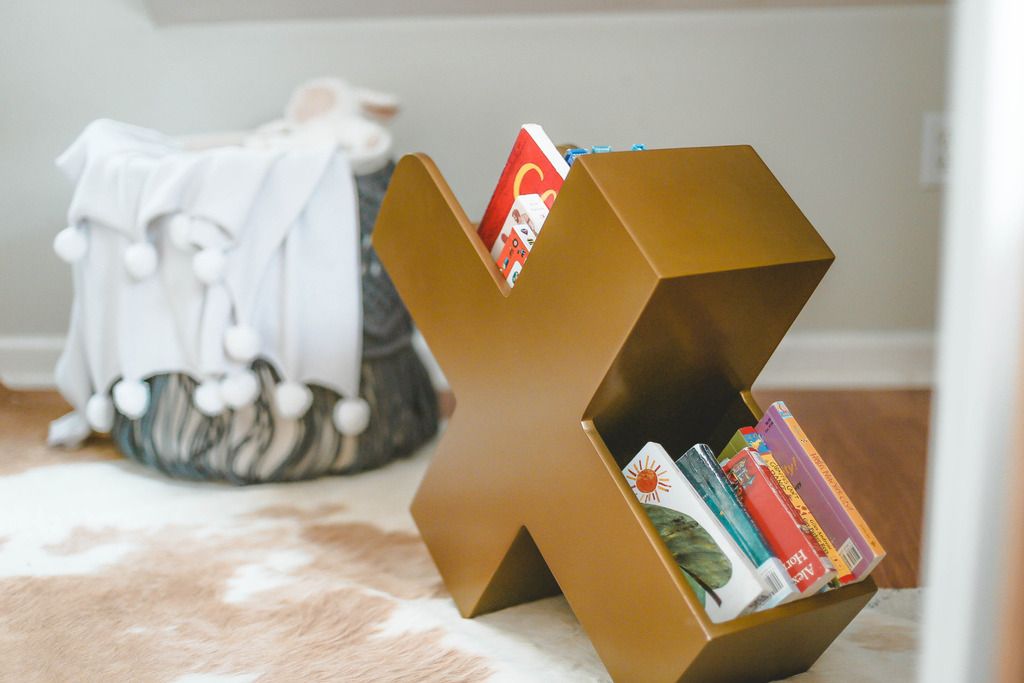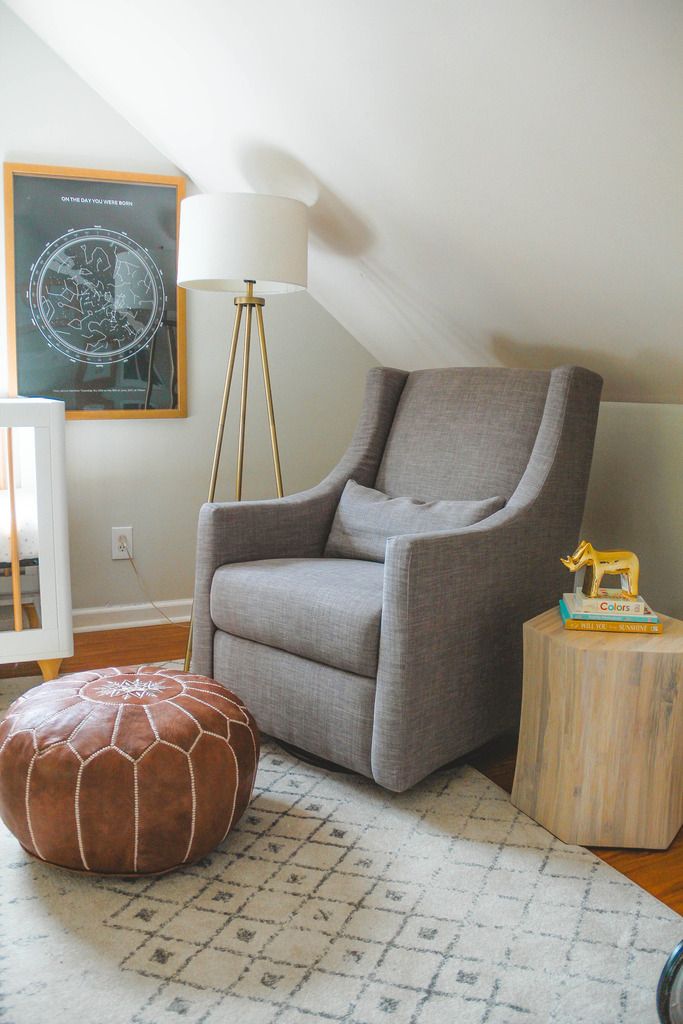 I hope you all loved this space as much as I do, or it gives inspiration to any of you mamas looking to decorate a boys room. You can find all of the direct links to everything below.
Thanks for stopping by. 🙂
Star Map: c/o Under Lucky Stars
Roman Shades: here
Fiddle Fig Tree: here
Basket: c/o Plum and Sparrow
Floor Lamp: here
X Book Caddy: here
Dark Gray Basket: Homegoods
Pom pom blanket:c/o Loren Canal
White Ride On Car: here
Crib: c/o Babyletto
Star Crib Sheet: find it HERE
Crib Mattress: c/o Nook Sleep
Gray Glider: c/o Babyletto
leather Pouf: here
geo hex side table: similar styles here and here
rhino figurine: here
baby books: here
Rug: find it HERE
cowhide rug: c/o Saddlemans
Blue Dresser: c/o Hayneedle similar here
Mid Century Table Lamp: here
Pom Pom canvas bin: here
Sloth Stuffed Animal: here
Changing pad/sheet: here
Wall shelf: here
Gray Rhino piggy bank: here
Black oxford baby shoes: here