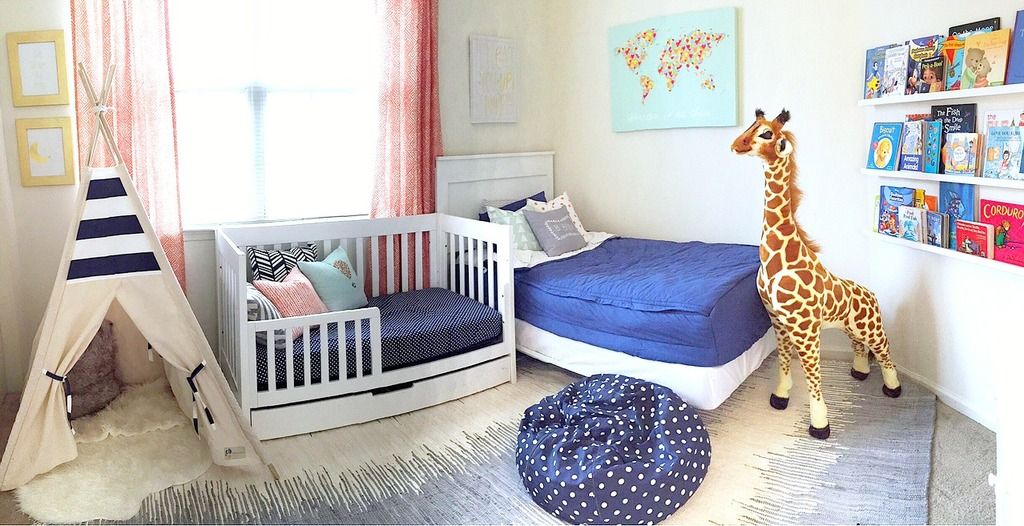 I am beyond excited to finally share with you my boys room. It's sadly has been a few months in making; because what started out as just being a play room idea, quickly changed into a joint bedroom/ playroom when we moved to NJ. Let me tell you, trying to decorate and make a room look cute in such a small space is hard work. This is just a temporary space until we find something bigger we both love, but for now this is home and I want it to feel that way. Lucky for me, we can decorate the place and put nails in the wall. Hallelujah!
The first few weeks after we moved here, Cayman would start crying every time we pulled into the driveway and would say, "I don't want to go to New Jersey! I want to go HOME!" It broke my heart, so I wanted to create a space that felt like home. I wasn't really sure what direction or "theme" I going for, until my best friend Kristen sent me an adorable sign in the mail as a house warming gift for the boys room. It read, "I'll eat you up, I love you so!" I read the book, Where The Wild Things Are to her kids countless times this last summer, and its my boys personal favorite. I knew then that I wanted their room to be centered around adventure. My kids are as adventurous as they come, so I wanted it to reflect their fun and playful personalities. I chose to do bright colors, and the teepee/ play tent of course as the center of the decor. Don't even get me started on how much I'm loving this teepee from Ashley Gabby Designs. Its great quality, and the design is probably the cutest I've seen for boys. Cayman and Beckham's favorite place to be is the outdoors, and they absolutely love camping. The first time I set up their tent, Cayman was so excited to go "camping," in his bedroom!
I hope you all love this fun and playful bedroom I created for my boys as much as I do. Its definitely made this temporary place feel a little more like home. XOXO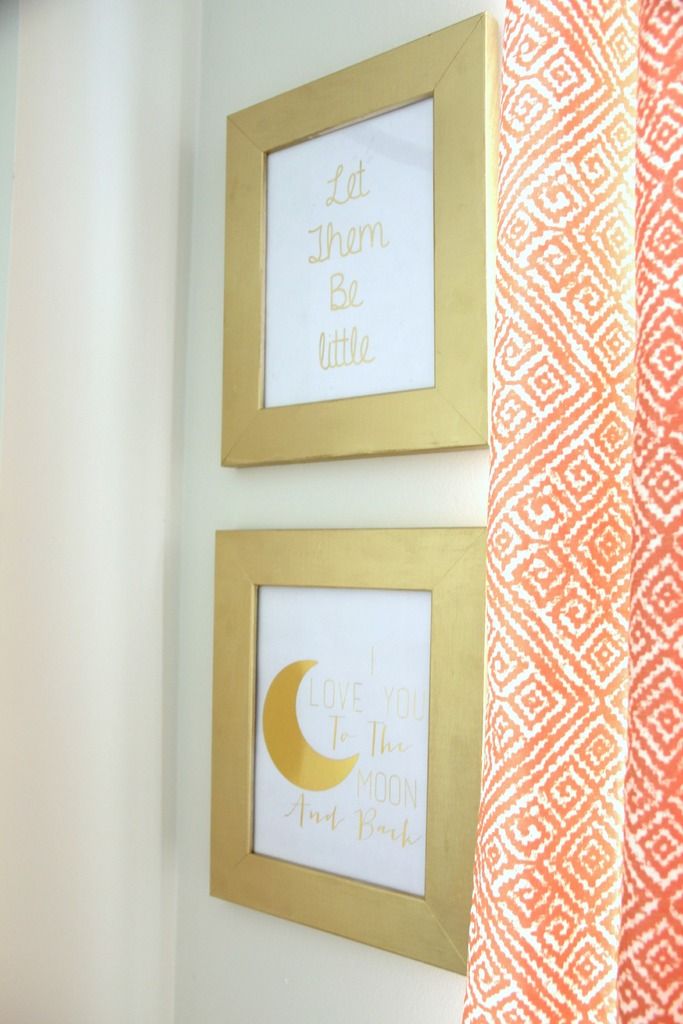 Room Details
Bedding: c/o Beddys Beds Use code KISSMEDARLING for $40 off!
Crib Bedding – Pottery Barn Kids
Crib– Babyletto Mercer
Twin size Headboard– old, painted white
Teepee/ Play Tent: c/o Ashley Gabby Designs Use code KISSME20 for 20% off your purchase!!!
Sheepskin Rug (inside the tent): Ikea
Rug: Joss and Main on sale HERE
Pillows: (Mint Triangle and Orange Polka Dot) c/o Love Joy Create use code KISS15 for 15% off
all others Society6
Large Plush Giraffe: Melissa & Doug
Signs: World Map c/o Gathered Nest Designs ,
Large Peter Pan quote- c/o House of Belonging Use code KISSMEDARLING for 15% off your order
Ill Eat You up, I love you so – Hobby Lobby
He's got the Whole World in his hands – Hobby Lobby
Framed Pictures: Two Gold Frames: Love you to the Moon, and Let them be little c/o Always Lou The world is super lucky to have you – Hobby Lobby,
Fox Print – Etsy
Gold Metallic Frames: Old, Spray painted metallic gold
Polka Dot Bean Bag: c/o Window Nook
Book Shelves: Ikea
Triangle Garland: Made by yours truly. Get a similar here
Striped Storage Bins: Target
Striped Laundry Hamper: Target
Lamp: Old, spray Painted blue
Watch Out for the Woestman's, Mix It Up Monday, & Funday Monday
Trend Spin, Titus Tuesday, Titus 2sday, Posh Pair, Wifey Wednesday, Wise Woman , My Girlish Whims, WIWT, I Feel Pretty, Style Sessions, & What I Wore
What I Wore To Work, Be You TIful Link Up, Look What I Got, Friday's Fab Favorites, Fashion Friday, Working Girl With Style, & Friday Frills