So, I've been a really bad blogger lately. This last week Beckham came down with RSV and it was pure misery. Please tell me I'm not the only one who gets depressed when their kids are sick? Anyone else have this problem? I just wanted to take his place so badly. Poor thing was just miserable, and life pretty much got put on hold until he was better.
One thing I have realized about myself as a parent, is that I always play by the rules. Sometimes it can be a little overboard. I mean, Cayman didn't even go to nursery until he was 2 1/2, because I was too paranoid to leave him or risk him getting sick. I hardly took Beckham outside of the house his first year, as to not risk him getting sick. Its scary having a micro preemie, because the slightest cold can send them back to the NICU. Just when I was thinking we were in the clear with spring coming, he gets RSV. Lets just say I cried all morning and afternoon. Worst parent award right here <————- I just love this little boy so much, and im glad to see he is better. Still a little sniffly, but for the most part he's back to normal. Let's just say we cannot wait for warmer weather!
Speaking of warmer weather, hope you all enjoy this spring look I put together for ProFlowers. Nothing says spring like florals in my opinion. In this case pink peonies. Also, make sure to enter the Blogger essential giveaway Part III, for your chance to win a complete blog makeover!! See details below. 🙂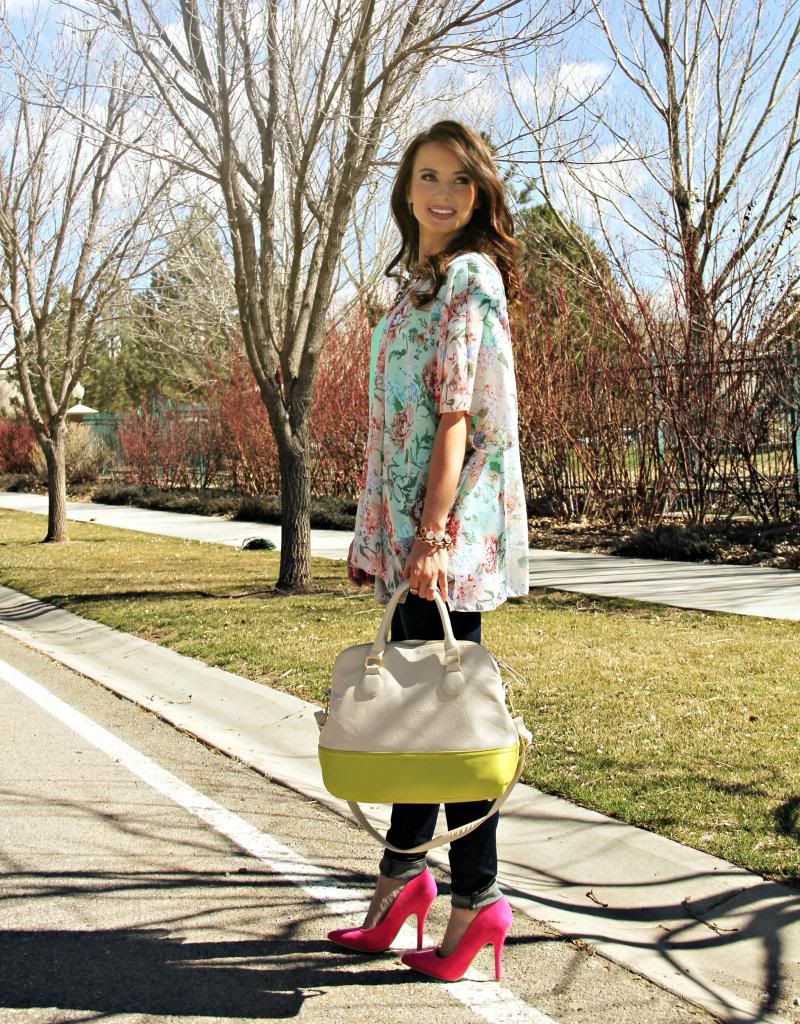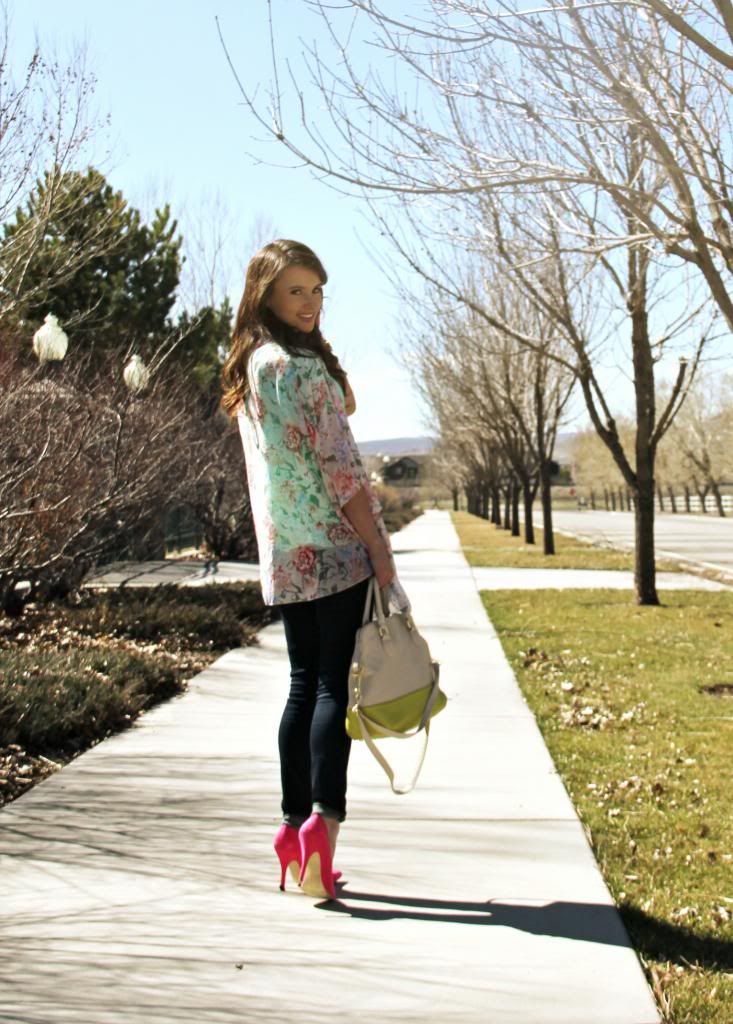 Top: Nordstrom | Floral Kimono: Tilly's c/o similar here | Denim: Paige Denim | Heels: F21 similar here | Purse: In stores at Target | Jewelry: Jane
Beckham's Outfit:
Tee: Gap Outlet-similar | Button up: Gap Outlet- similar | Pants: BabyGap | Deerie Handmade c/o
It's time for the last installment of the Blogging Essentials Giveaway and today we are giving you all a chance to win a complete blog makeover by the talented Kalee Hulka of Fredrongo.com! What's more essential to blogging than having a nice and unique space to blog at? Close to nothing. It's pretty high up there on the list of essentials to blogging!
What You'll Get:
Blog Header
Background
4 Social Media Buttons
3 Sidebar Titles
About Me Image
Favicon
2 Revisions
Click here if you're interested in checking out Kalee's stellar portfolio! As always, remember to complete as many (or all) of the entries as possible to increase your chances of winning!
Rule 1: Giveaway will run for one week and the winner will be announced on Thursday March 20th.
Rule 2: The winner's entries will be verified.
Rule 3: Open internationally.
Auteur Ariel | Hunters of Happiness | Janelle in Real Life | A Beautiful Life | The Freckled Fox
Haircut and General Attitude | Kiss Me Darling | Fashions by Mariah | Fredrongo | The Style Record
The Red Closet Diary | Love, Lo | Rachel Sayumi | The Glittering Life | Wild One Forever
Simply Just Lovely | Raspberry Glow | Kelsey Bang | Fashions on the Fly | Love, The Skinnys
Jody Beth | Love Me, Dani Marie | Clad&Cloth | The Vintage Twins | Polish and Pipsqueaks
Kelli France | Perfection Possibilities | Lipstick, Heels, & a Baby
Suburbs Mama. Sunday Style, Monday Morning Gossip, Monday Must Haves, Monday Bloom, Watch Out for the Woestman's, Mix It Up Monday, & Funday Monday
Trend Spin, Totally Posted Tuesday, My Girlish Whims, Wednesday Style Connection, I Feel Pretty, Wardrobe Wednesday, Style Sessions, & What I Wore
Lovely Thursday, What I Wore To Work, Be You TIful Link Up, Three-Fer Thursday, Look What I Got, All Things Thursday, Best of Friday Style, Friday's Fab Favorites, What I'm Loving Fridays, Working Girl With Style, Fashion Informant Friday & Favorite Fashion Friday